As we will soon learn.

Here is NBC reporter David Gregory breaking the law while interviewing the NRA's Wayne LaPierre on camera inside Washington D.C. The D.C. police say they are investigating.


This is being fairly extensively covered now (
even by UPI
!), so I'll not belabor the points I have
already made
. There is an interesting development, though. It turns out that NBC's producers actually asked Washington D.C.'s Metropolitan Police Department for permission to use an outlawed "high-capacity" magazine during the interview. The
MPD said no
(duh, what police department is ever going to say, "Sure, just for you, it's okay to break the law"?).
"From: "DC Police (imailagent)"
Subject: Email from DC Police (Intranet Quorum IMA00519327)
Date: December 24, 2012 4:13:12 PM EST
To: -
The Metropolitan Police Department is in receipt of your e-mail regarding David Gregory segment on "Meet the Press." MPD has received numerous e-mails informing us of the segment. NBC contacted MPD inquiring if they could utilize a high capacity magazine for their segment. NBC was informed that possession of a high capacity magazines is not permissible and their request was denied. This matter is currently being investigated. Thank you for taking the time to bring this matter to our attention.
Customer Service – Metropolitan Police Department"
As law Prof. William Jacobson continues,
... the fact that NBC News was warned by the D.C. Police not to use the magazine puts a whole new light on the incident, turning it into an intentional violation of the law. While the law does not require [proof of] intent, the existence of intent could influence a decision whether or not to prosecute.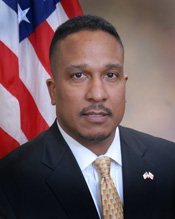 Ronald C. Machen, Jr.,
US Attorney for the District
of Columbia
This puts Ronald C. Machen, Jr., United States Attorney for the District of Columbia, on the spot. (D.C. has no district attorney's office of its own handling its prosecutions as do other cities of the country; the US attorney there prosecutes both federal and municipal cases occurring within the district.) Here's why:
The D.C. code concerned allows no exceptions to its ban on the possession, sale or transfer of magazines of greater than 10 rounds capacity. The ban is total and absolute.
The MPD has confirmed information that means, as Prof. Jacobson says, that NBC's brandishing of the magazine was deliberate, preplanned and in knowing and willful violation of the law.
So the question for Mr. Machen is simply: Is NBC News above the law?
Oh, who am I kidding? Of course it is. No charges will be brought against Gregory or any other NBC figure. Instead, we'll get kabuki theater:
Scenario One
:
NBC News will issue a statement saying that Gregory "inadvertently" used a high-capacity magazine on the show, not knowing that it was banned within the district. The statement will include the typical Washington-style non-apology apology, a sentence boasting of NBC News' commitment to the rule of law, and a promise not to do such a thing again.
A very lower-level flunkie will be publicly fired. After a decent interval, he'll be rehired in another department of the network.
US Attorney Machen's office (not him personally, or perhaps through the MPD) will issue a statement saying that prosecution is not warranted.
Scenario Two
:
The investigation that MPD says it is conducting will simply never end. Media queries will just be answered, "This investigation is continuing and therefore we have no other information to release about it at this time." That will be the answer in 2016, too.
After all, who is going to press US Attorney Machen to bring a case forward? The other media? Ha, they'll circle the wagons around NBC. Nope, this affair will start sputtering out before the end of the week. (
Update
: the circling has already begun -
link
,
link
)
Remember that the United States attorney for the District of Columbia, like every other US attorney, works for the attorney general of the United States, one Eric Holder. Now consider some more whether you think NBC is going to be the slightest discomfited by the magazine-gate.