How fallen is the formerly mighty United States: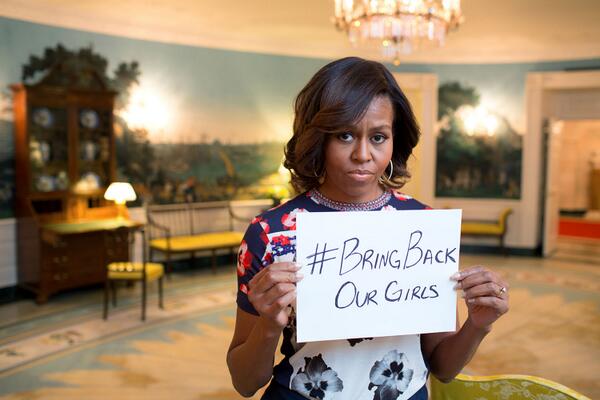 Our prayers are with the missing Nigerian girls and their families. It's time to
#BringBackOurGirls
. -mo
Update: Commenter Julie at
Sidelines
get straight to the point:
... It's one thing when a bunch of American nobodies who want to express solidarity or sympathy but are otherwise completely powerless to do anything in any way, shape or form about what happens elsewhere in the world. Like teenage girls, for instance. When the First Lady does it, she's telling the world that not only she is powerless, but that we are powerless. And not just in this matter, but in pretty much anything of consequence that happens anywhere. And the same is true of that stupid minge in the State department who thinks that starting a hashtag war with Putin is the best way to talk about what he's doing in Ukraine.

The only way this would have been acceptable is if she followed the first message with a second one announcing, say, that new glass mines are about to open up somewhere in the vicinity of the terrorist encampments. Or that some of her hubby's famous drones are being sent to investigate.

Anything but this disgusting, powerless, childish pouty face.

God help us all.