Scientists discover supervolcano trigger that could herald humanity's doom
"Turns out we may get very little warning before big bang!"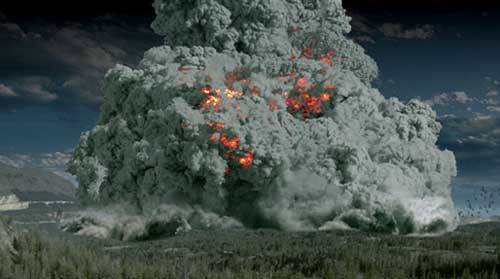 European scientists think they've found the trigger mechanism for the eruption of supervolcanoes, the most violent and dangerous natural disasters on Earth.
Unlike traditional volcanoes, which are easily identifiable by their mountainous shape, supervolcanoes lurk far underneath the Earth's surface. They contain huge bulbs of molten magma, some over 100km long, which periodically explode, covering huge areas with ash hundreds of meters deep which scars the lungs of any animal breathing it in.
Around 20 supervolcanoes have been discovered under the Earth's surface (and at least one suspected site on Mars), and when they blow the results can be catastrophic.
It is, once again,
The End Of Life As We Know It
! Let me count the ways:
I tell ya, I'm starting to think that sooner or later, every one of us is going to wind up dead.
This calls for a rock song!
Update: A tip of the hat to Don Parker for the lead, via email, sorry I omitted this in the original post!